Get the guaranteed lowest price on OW-20 oil changes+.
This oil is made just for Honda, so your engine runs cleaner and lasts longer.
About Honda 0W-20 Full Synthetic Oil
Protect your investment by choosing genuine Honda 0W-20 full synthetic engine oil. 
Honda 0W-20 is a low viscosity and full synthetic engine oil specifically formulated for Honda's low friction engines. An engine that runs 
more smoothly burns fuel more efficiently. 0W-20's ultra-low viscosity grade helps to optimize fuel efficiency and improve power.
Example: Based on the Canadian fuel economy guide, the estimated annual fuel cost for a 2010 CR-V is $1,800 with 20,000km driving distance. With 1.5% fuel savings using 0W-20, your annual fuel savings would be $27 compared to 5W-20.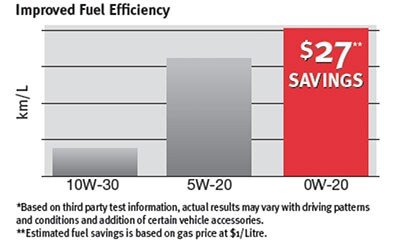 Reduced Engine Wear
Honda 0W-20 engine oil provides advanced protection against oil breakdown and a cleaner running engine. Honda 0W-20 engine oil's low viscosity 
allows the oil to flow faster, particularly at engine start up and cold temperature, where most engine wear takes place.